At Blackburn Chemicals Ltd, we appreciate the importance of our customers so we ensure that Research and Development focuses on their requirements. Our Product Development Managers work in teams, each team specialising in a particular group of industries. This system ensures that all of our customers can be confident that they have a group of experts excelling in that industry.
Responsibilities
The main responsibility of our Product Development Managers is to ensure that we can offer our customers a range of first class products. New opportunities are constantly arising and work on product development and improvement is continuous.
We work closely with customers and frequently develop specific products to solve their individual problems.
ISO 9001:2015 Accredited
We supply to over 80 countries worldwide
Innovative Research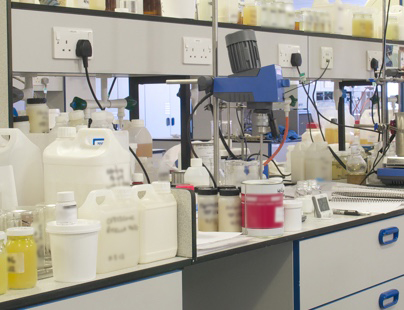 Product Development
The Product Development Managers take ownership of their group of products and provide our Production Department with manufacturing methods and product specifications.
They supervise the manufacture of new products to ensure that our high standards of quality are maintained and also advise our sales staff and customers on the optimum use of our range of products.