Responsibility
Blackburn Chemicals Ltd complies with industry best practice, ensuring that our operations meet the highest safety standards for the protection of our employees and the environment.
SUSTAINABILITY
We Support
UN Global Compact
Since March 2020, Blackburn Chemicals has been committed to the UN Global Compact corporate responsibility initiative and its principles in the areas of human rights, labour, the environment and anti-corruption.

All activities are performed to the highest standards of ethical business conduct
Ensure all business complies with all UN regulations
Fully compliant with the UK Modern Slavery Act
Commited To Our Values
Quality
Our customers demand the highest quality products. To satisfy their demands, our operation has complied with the internationally recognised quality standard ISO 9001 since March 1997. The quality standard requires that our operations (procurement, manufacturing and supply chain) are carried out according to a series of rigorous procedures against which the company is regularly assessed by an independent UKAS accredited certification body.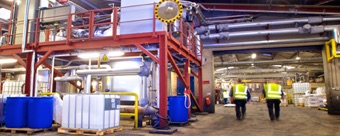 Health & Safety
Blackburn Chemicals has an excellent safety record, all of our employees are accountable for working safely and reporting unsafe conditions. We are also committed to working safely when working at customer sites. All our site-based personnel hold a current CCNSG Safety Passport and the company has SafeContractor accreditation.
Environment
We are committed to minimising the environmental effects of everything we produce, we strive to use environmentally friendly raw materials wherever possible, from chemical ingredients to packaging. The Environment Agency granted a Pollution Prevention and Control (PPC) Permit for our Blackburn site in May 2007 which can be viewed on the Public Register. This Permit has since become an Environmental Permit under The Environmental Permitting (England and Wales) Regulations 2007.
CORPORATE RESPONSIBILITY
Working Ethically and Responsibly
Blackburn Chemicals Limited have a Business Ethics, Labour and Modern Slavery Policy which ensures that our international activities are conducted in accordance with all applicable legal and regulatory requirements and the highest standards of ethical business conduct. The company is committed to maintaining high standards of fairness, respect and safety for all employees and is also committed to respecting the United Nations (UN) convention on Human Rights and the International Labour Organisation's (ILO) eight core conventions on fundamental human rights.
We are also committed to addressing the requirements of the UK Modern Slavery Act 2015 (the "Act") and ensuring that our supply chain is compliant with the regulations prescribed therein. We acknowledge the undertakings in the Act and endeavour to create a culture of transparency with regards to the supply of goods and services to us. This statement is made pursuant to section 54 of the Act and constitutes Blackburn Chemicals' modern slavery and human trafficking statement, as required by the Act, for our Financial year ended 31 May 2022.
Blackburn Chemicals is also a 'B' member of SEDEX (ZC1047950), the Supplier Ethical Data Exchange. This not for profit membership organisation dedicated to driving improvements in responsible and ethical business practices in global supply chains. We regularly feed a secure, online database which allows us to store, share and report information on Labour Standards, Health & Safety, the Environment and Business Ethics.
For Quality, Health & Safety or Environmental enquiries, please contact our QSE department: